"The Lord is gracious and righteous; our God is full of compassion. The Lord protects the unwary; when I was brought low, he saved me. Return to your rest, my soul, for the Lord has been good to you."
‭‭Psalms‬ ‭116‬:‭5‬-‭7‬ ‭NIV‬‬
"Let the peace of Christ rule in your hearts, since as members of one body you were called to peace. And be thankful. Let the message of Christ dwell among you richly as you teach and admonish one another with all wisdom through psalms, hymns, and songs from the Spirit, singing to God with gratitude in your hearts. And whatever you do, whether in word or deed, do it all in the name of the Lord Jesus, giving thanks to God the Father through him."

Colossians‬ ‭3:15-17‬ ‭NIV‬‬
"Rejoice always, pray continually, give thanks in all circumstances; for this is God's will for you in Christ Jesus."

1 Thessalonians‬ ‭5:16-18‬ ‭NIV‬‬
"Give thanks to the Lord, for he is good. His love endures forever."

Psalms‬ ‭136:1‬ ‭NIV‬
"Don't be deceived, my dear brothers and sisters. Every good and perfect gift is from above, coming down from the Father of the heavenly lights, who does not change like shifting shadows."

James‬ ‭1:16-17‬ ‭NIV‬‬
When you arise in the morning think of what a privilege it is to be alive, to think, to enjoy, to love

Marcus Aurelius
"True happiness is to enjoy the present, without anxious dependence upon the future, not to amuse ourselves with either hopes or fears but to rest satisfied with what we have, which is sufficient, for he that is so wants nothing. The greatest blessings of mankind are within us and within our reach. A wise man is content with his lot, whatever it may be, without wishing for what he has not."

Seneca
"It is not the man who has too little, but the man who craves more, that is poor. "

Seneca
Think of yourself as dead. You have lived your life. Now take what's left and live it properly.

Marcus Aurelius
"Cultivate the habit of being grateful for every good thing that comes to you, and to give thanks continuously. And because all things have contributed to your advancement, you should include all things in your gratitude."

Ralph Waldo Emerson
Do not spoil what you have by desiring what you have not.

Epicurus
Examine yourself whether you wish to be rich or to be happy. If you wish to be rich, you should know that it is neither a good thing nor at all in your power: But if you wish to be happy, you should know that it is both a good thing and in your power, for the one is a temporary loan of fortune, and happiness comes from the will.

Epictetus
We should enjoy good fortune while we have it, like the fruits of autumn.

Epictetus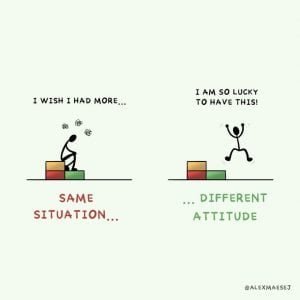 Why?
Helps with Mental Health
Helps to Deal with Changes in Life
Stress Relief
Intimacy with God
Gratitude starts with presence and observation. Take notice of your life, body and surroundings… it could be much worse. Give thanks to God and the people in your life for the way things are at this moment.
Affirm the good things you've received
Acknowledge the role other people play in providing your life with goodness
Keep a Gratitude Journal. Establish a daily practice in which you remind yourself of the gifts, grace, benefits, and good things you enjoy. Recalling moments of gratitude associated with ordinary events, your personal attributes, or valued people in your life gives you the potential to interweave a sustainable theme of gratefulness into your life.
Remember the Bad. To be grateful in your current state, it is helpful to remember the hard times that you once experienced. When you remember how difficult life used to be and how far you have come, you set up an explicit contrast in your mind, and this contrast is fertile ground for gratefulness.
Ask Yourself Three Questions. Meditate on your relationships with parents, friends, siblings, work associates, children, and partners using these three questions: "What have I received from __?", "What have I given to __?", and "What troubles and difficulty have I caused?"
Share Your Gratitude with Others. Research has found that expressing gratitude can strengthen relationships. So the next time your partner, friend or family member does something you appreciate, be sure to let them know.
Come to Your Senses. Through our senses—the ability to touch, see, smell, taste, and hear—we gain an appreciation of what it means to be human and of what an incredible miracle it is to be alive. Seen through the lens of gratitude, the human body is not only a miraculous construction, but also a gift.
Use Visual Reminders. Because the two primary obstacles to gratefulness are forgetfulness and a lack of mindful awareness, visual reminders can serve as cues to trigger thoughts of gratitude. Often times, the best visual reminders are other people.
Make a Vow to Practice Gratitude. Research shows that making an oath to perform a behavior increases the likelihood that the action will be executed. Therefore, write your own gratitude vow, which could be as simple as "I vow to count my blessings each day," and post it somewhere where you will be reminded of it every day.
Watch Your Language. Grateful people have a particular linguistic style that uses the language of gifts, givers, blessings, blessed, fortune, fortunate, and abundance. In gratitude, you should not focus on how inherently good you are, but rather on the inherently good things that others have done on your behalf.
Go Through the Motions. Grateful motions include smiling, saying thank you, and writing letters of gratitude. By "going through grateful motions," you'll trigger the emotion of gratitude more often.
Think Outside the Box. If you want to make the most out of opportunities to flex your gratitude muscles, you must look creatively for new situations and circumstances in which to feel grateful. Please share the creative ways you've found to help you practice gratitude.
Savor the good. On days when gratitude feels difficult to find, tune into your senses. This meditation invites you to cultivate thankfulness by slowing down and noticing what you can see, hear, touch, smell, and taste. There doesn't have to be anything special going on in order to practice gratitude—maybe it's as simple as feeling grateful for your morning coffee, or for a good book. Explore this simple practice to appreciate the little things.
Use the breath to anchor yourself in the present moment. Our minds are always so easily pulled to busyness. Bring particular attention to feeling the breath, or something in the body, as you bring your shoulders down and orient your attention toward gratitude.
Next, bring to mind a sight you are grateful for. Move through your senses, and find one thing to start with that you appreciate that comes to you from the world of sight, if you have this available. It could be a color…a shadow…a shape…a movement. Remember, it will never be like this again. What do you see right now, and can you feel grateful that you get to see this, whatever it is?
Now, shift to a scent you appreciate. As you continue to work with your senses, now take time to tune in with appreciation to an aroma. What do you notice? What about that glorious or interesting or subtle smell is making you smile? It could be gratitude for something familiar: a scent that brings comfort, upliftment; or maybe it's something you've never smelled before, and it just piques your curiosity, ignites you, enlivens you.
Moving on, tune into any sounds around you. Allowing the world of smell to gently recede into the background, on an in-breath, shift your attention to your ears and the world of sound. Maybe notice what it feels like to really listen. How many sounds can you notice, and can you feel grateful that you're able to experience sound, if you are? What can you notice about these sounds—far away? close? Perhaps you could play a piece of music that brings you joy, and have gratitude that it's so available? Or maybe it's the sound of children laughing, the sound of loved ones breathing, the sound of the beating of your own heart.
The world of touch and texture beckons us next. We find so much to be grateful for in touch! If there's someone near who you can hug or who can hug you, notice how this makes you feel filled with gratitude for the joy of human contact. Or perhaps you have a beautiful pet that you can stroke and cuddle, or some lovely material with a texture that feels warm to the touch, soft, evocative. Let your senses ignite your gratitude! There's so much to be appreciative of.
Shift to noticing and appreciating objects around you. Now take a moment to look around: Look down, look up, and from side to side. Appreciate how much effort must have gone into anything at all you own or use. Someone conceived of the need and many people worked on the details of the design. Much care even went into the packaging to deliver your item to you safely. What do you feel when you let yourself be grateful that all that talent went into making your life a little easier?
As you end this practice, carry this attitude of gratitude with you. One last little grateful tip: Why not offer your thanks to each person who does anything at all for you today? Even if it is their job to help you? When you're grateful, when you let your heart open up and be filled with appreciation, notice how being grateful makes you feel.
Close with gratitude. I'm so grateful that you tuned in to this gratitude practice, and I appreciate your time, your effort, and your energy to be present, awake, and alive to your precious life. Have a beautiful day.
---
---